MRE Slot News 11 July 2013
NEW IN STOCK
Cars in both 1/24 scale and 1/32 have arrived this week in deliveries from FLY and CARRERA and SCALEXTRIC.
Starting with the bigger cars, CARRERA sent us three new 1/24 Digital cars, which cover three different time periods of racing. 1960s fans get a new bright yellow Cheetah, 1970s racers have a new livery on the Porsche 917K, and then the Aston Martin DBR9 brings us right up to date.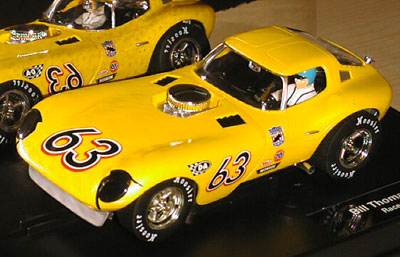 CAR-27383 1/24 Digital Cheetah # 63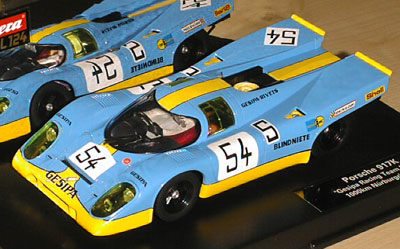 CAR-27380 1/24 Digital Porsche 917K Gesipa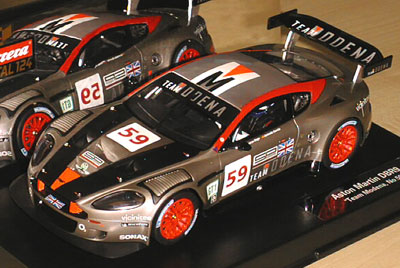 CAR-27385 1/24 Digital Aston Martin DBR9 Modena
Three cars also arrived from SCALEXTRIC, a nice pair of GT cars plus a new Police car. The Audi R8 GT with the big Kangaroo emblem is the Bathurst GT winner, the other Audi R8 depicts a German Police Car.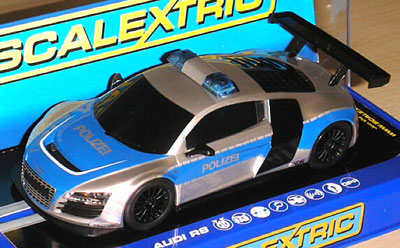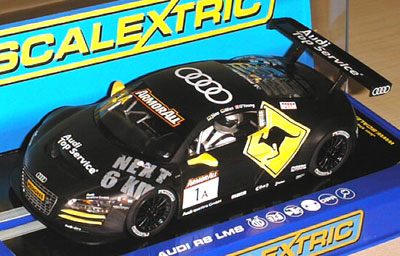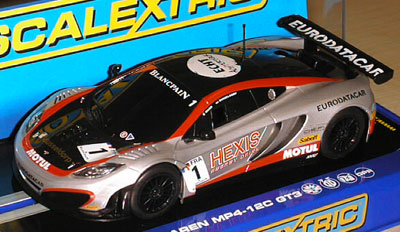 We have a new truck and another Williams FW07 from FLY. The truck is the first release of the Mercedes Atego for some time, the Williams is probably the final release of this model and has Carlos Reuteman at the USA GP in the hot seat.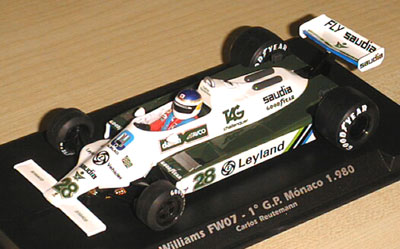 F-055106 Williams FW07 Reuteman # 28 USA GP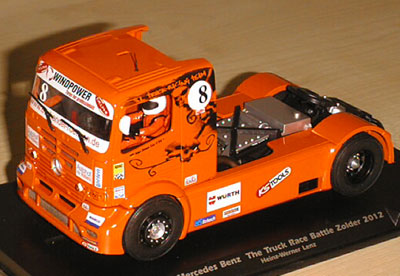 F-202101 Mercedes Atego Truck # 8
DUE TO ARRIVE
Another Capri RS2600 Ltd Ed car is on the way from SRC, this time it is the Lucky Strike car that raced in South Africa.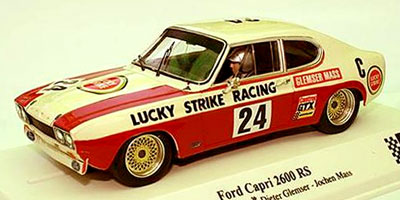 SRC-900109 Ford Capri RS2600 Lucky Strike Ltd Ed
A new version of the Mazda 787B is on the way from MR SLOTCAR, we did show you a picture of this Mazda 787B JSPC last week, exactly as we did with the PIONEER Chevy Camaro SS Sunoco # 15 car which is being packed for shipping over the weekend.
TEAM SLOT have shipped the Lancia Stratos Martini car and it should be in stock at the beginning of next week. The Stratos is always a favorite and the Martini livery has not been done before.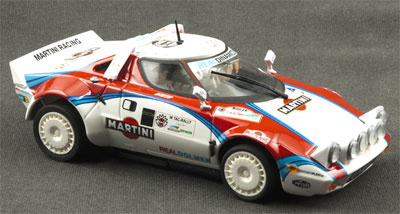 TMS-11514 Lancia Stratos Martini
NEW CARS ANNOUNCED
A confirmed announcement from FLY is the Porsche 917K Lucky Strike # 3 car that we told you about a couple of weeks ago, and is a Ltd Ed release from South Africa that we can take orders for now.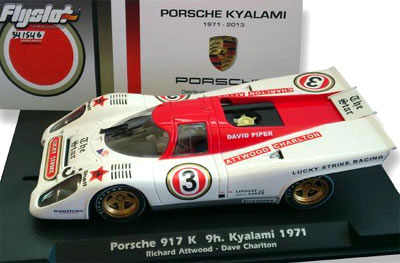 F-005301 Porsche 917K Lucky Strike # 3 Ltd Ed
RACER will be producing two more versions of the Porsche 935 Moby Dick. A complete kit will be available for anyone who wants a bargain price and can paint their own bodyshell, and a very limited edition chromed car is being produced. Definitely first come - first served on this one, as very few chrome cars will reach the UK.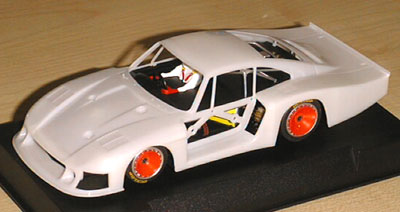 RCR-SWKMDA Porsche 935 Moby Dick complete kit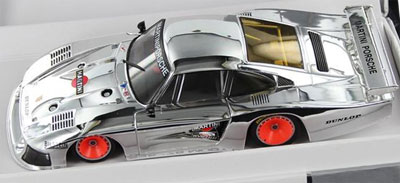 RCR-SWLE02 Porsche 935 Moby Dick Chrome Ltd Ed
PIONEER have confirmed the release of the Sunoco Camaro # 16 car, a sister to the # 15 due to arrive, and known as Penske's Unfair Advantage (look it up if you don't know the story of Sebring).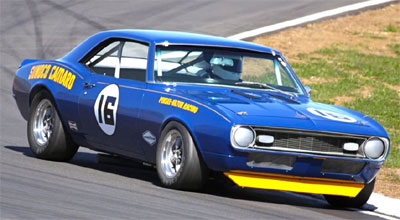 PNR-017 Chevy Camaro SS Sunoco # 16
NEWS ROUNDUP
UK SLOT FESTIVAL 2 DAYS IN 2014. Back again at the Motor Heritage Centre at Gaydon on 17 & 18 May 2014, the UK Slot Festival just gets bigger every year. Confirmed attractions are manufacturers roadshows, working slot tracks of all brands, NSCC Live Interviews, large swapmeet & retail area, slot racing in all scales, race & rally competitions - and the Battle is back ! The very competitive Battle of the Manufacturers was sorely missed this year and the organisers have agreed to run it again next year. We will have more information at a later date, but make sure you write the date down - you won't want to miss this.

PIONEER CAMARO MONSTER. No picture yet, but we had a chat with PIONEER and can tell you that another version of the new Chevy Camaro SS will be released very soon. The well-known Monster energy drink with its notable bright green horror-film graphics on a black car will be available on a slot car near you - well, it will be if you buy one ! We are just waiting for a catalogue number before we can let you start ordering in advance.
NINCO TO PRODUCE BIC LANCIA STRATOS. Remember the TEAM SLOT Lancia Stratos BIC livery released last year ? It proved to be one of the most popular versions of the Stratos, and NINCO must have noticed because we have advance notice they will be producing the same car. No catalogue number yet, but expect confirmation and details within the next couple of weeks.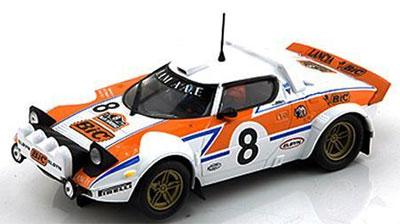 CAR of the WEEK
Every week we have a car on special offer for Newsletter readers. No matter what discount you already get as an MRE customer, we will give you and EXTRA 10% off the Car of the Week. Just email us with your claim when you place your order.
This week we have the car that should have won Le Mans 1966 on offer. This NSR Ford GT40 # 1 is the car that Ford management decided would win the 24 Hours classic, but the race organisers decided that the black # 2 car had started further back down the grid and therefore covered a greater distance in the stage-managed finish.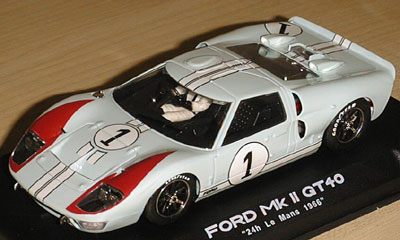 PICTURE QUIZ
We had to make a decision about the Picture Quiz - and we have to run it once a month instead of every week. If we can manage more we will slip in a few extra pictures, but we have just a bit too much to do at the moment to justify it at the moment, sorry. We plan to do a quiz for you on the first Thursday each month - and we will do more if the workload eases up.
Quiz entries - you can email your answers to us at mre@mre.co.uk
Quiz Entries - Please title your entries Slot Quiz when sending your email answer. Quiz Prize is valid for 2 weeks from date the winner is announced. As it is a free quiz and free prize, we will not post the prize separately but we will include the prize in any order posted to the winner within the 14 days from being announced.
Car of the Week - available for 7 days from publication of the Newsletter, while stocks last. Only orders received within this time and with receipt of the code number will be eligable for the extra discount.
More email news soon - but if you can't wait then take a look at our HOT NEWS items which we add to regularly.
All text and pictures in this newsletter and on the MRE website are COPYRIGHT of MRE and may not be used in any way without written permission.