Early days
MRE started by running slot racing tracks at exhibitions and corporate events, notably at Olympia and Silverstone. We started taking cars and accessories for sale to these events, and this grew into swapmeets and other shows.

Online
We were one of the first hobby businesses online by 1998, and the MRE website has become a regular attraction for slot racing fans because we have tried to give news and information as well as selling slot cars and parts. MRE Online has now grown to stock over 2000 different slot cars, and the full range of cars, accessories, and parts from more than 30 manufacturers We are pleased to be a Scalextric Race Centre, and Main Dealers for all the major manufacturers such as SCX, Ninco, Fly, Carrera, etc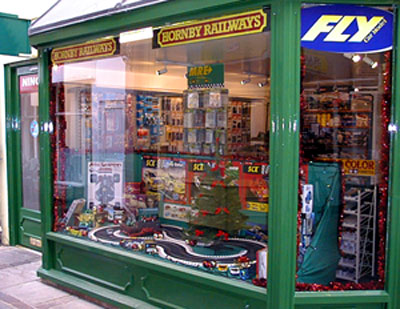 First shop
With so much stock, the first MRE Model Shop opened in 1999, and the range soon increased to include model railways, radio control cars, plastic kits, and diecast models. Within 3 years we had to move to a new shop with a High Street location and more than three times as much space !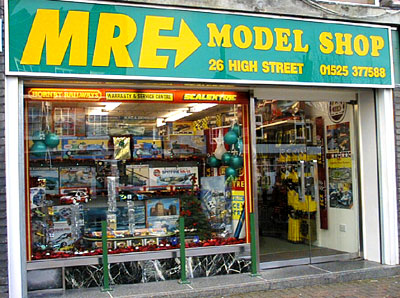 Second shop
With model railways now forming such a large part of MRE, we became a Hornby Collector Centre and a Dapol Gold Stockist. With the increased popularity of N Gauge and new ranges such as Hornby Skaledale we soon found that shop space was filled up, and we had to limit our stocks of Radio Control and Diecast to cope with increasing customers for slot racing and railways.
(NOTE : Both shops are now closed, since we moved to our warehouse and concentrated on online sales)
E-Commerce
As technology increased, so did MRE and we launched our new e-commerce website in 2005 with a bigger product range and all the latest technology. With the expert capabilities of our web team at Virtual Relations we have one of the fastest and most comprehensive websites, catering for club members discounts, overseas customers, VAT and shipping, and of course our regular news items. Our unique arrangement with some major clubs and manufacturers means that members can buy much cheaper online at MRE.

Faster online shopping
With online traffic increasing over 1000% in the last couple of years, many homes and customers can use broadband for shopping online while at home or work. MRE have again moved with the times, closing the shops and moving into our new warehouse premises to cater for this new lifestyle. You can visit us and buy, or you can order online.

Best prices at MRE ?
MRE has lots of stock to buy. You can also make advance orders for new items by reserving them, and pay less by becoming a regular customer ! Our discount system means that the more you spend the less you will pay for your orders.